Ocunid Monster Sprite
A downloadable asset pack
Here's a fun little monster sprite that might fit into your top-down game. Nothing fancy,

This ZIP contains several sheets of differing colors with and without shadows from each version of the Octonid released so far. GIMP and ASEPRITE files which were used to create the finished sheets are also included and have been arranged to be more useful to those seeking to add new animations.
Update : Version 1.15 adds normal maps and some common color palettes, an animation key, a new layout, and metadata for Godot/Unity importing.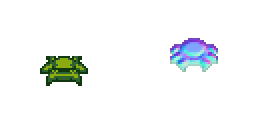 Update: Version 1.16 update adds giant version with colors adjusted to fit the ENDSGA64 palette plus a new detailed normal map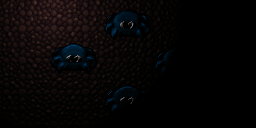 Nothing else planned for this project at the moment so leave your requests in the comments and I'll get around to it one day.
July 1st 2022: Just made this character free also. They work really well together

Download
Click download now to get access to the following files:
Octonid.unitypackage
23 kB
Comments
Log in with itch.io to leave a comment.
Love to see this, never heard of the engine before so IDK what your limitations are - even with the down scaling of the sprite its a pretty neat looking character, maybe just because its not another peasant / noble / space marine (not that I judge peasant protagonists, its popular for a reason, but standing out has some value as well I think)

Yeah, i'm actually trying to find a new sprite sheet right now
Did some research, have you tried the "Better image uploads" addon?
Again, I've never heard of this engine, I just searched their github and this was an issue about images over 260x480 2 years ago. Here's where I found the information:

https://github.com/ScratchAddons/ScratchAddons/pull/2525
This comment section is getting pretty crowded, I opened a KoFi page yesterday - that's a better place for suggestions and discussion:

Epic, Reminds me of the phantoms in animal jam. Not in a bad way of course.
Turns out this is a very archetypal monster type. I never thought it was very original, (also, not a negative this time), but I felt a touch embarrassed to have the monster published before I realized its the spitting image of one of the first enemies in the NES Zelda. One screen from the start
your work is amazing!!! I love it !!!
hello, great job, wanting to use your art in our commercial title. I have a question: do you have a animation key? in another words, in version 1.4, do you have a guide as to which frames are for walk, idle, hit? all the animations are on a single sheet and its difficult to determine on which frame the walk sequence starts/ends, etc. Please advise, thank you.
Sorry for the late response.


With regards to commercial licensing this should fall under Creative Commons Attribution 4.0 so commercial use is fine. I do ask that nobody use my stuff in blockchain related projects, but that's not legally binding just a professional courtesy.


With regards to animation data, I have good news. I took your request as a chance to reorganize some things and went ahead and released it as version 1.15 since it was simpler to reorganize things if I was going to release an animation key

Everything you asked about should be in a .txt file in the 1.15 folder,
1.15 includes

Animation notes
A more intuitive sprite sheet design including:

Idle (South only)
Walk
Hurt
Shrink / Die
Grow / Spawn

normal maps

classic palettes like gameboy and NES,
Aseprite .json format metadata for easy importing
An advanced compressed layout sprite sheet which requires metadata for practical use but saves space for mobile / browser games.
That should take care of your concerns.

Have a good day, and consider donating if you're able, so far This is a pretty popular asset yet I've only been made $0.007 per download.

This guy is fun and beautifully animated. He will be in my game. :) Hopefully, if the game succeeds, more of your stuff can make its way into the same game as an update. :)
Man, that's really encouraging. I don't know how you define success personally but I hope you achieve it. Here's what I'm working on now: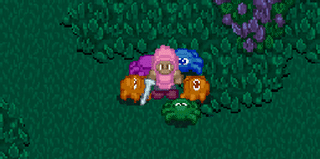 I'll need the that character or template (hopefully both) for sale on itch, before I can get out another mook in this style. for sale before I do more free stuff.
If you're up to it, DM me on twitter, I'd like to see your game and maybe get some feedback on my new assets. Cheers.

Nothing fancy? This enemy is so cool! And it will fit perfectly into my game. I paid a few bucks and I will add your name to my game's credits (when it's done).

Should I link to your profile here on itch?
Oh thanks, didn't know I missed this comment. Since you also liked the template - there's a dev log which previews a near complete character in that style you can check it out here

Thank you! spooky-precious is the basic vibe for this monster, so it's not surprising you'd like it.